Welcome
Phone us : (051) 312 325
Distri Europe Ballooning Gino Ciers - since 1991 !

Visit our website in English: www.hotairballoon.be
We have a specific website for balloon tours in the battlefields region around Ypres:
www.ypres-ballooning.com
Information and reservations:

phone +32 (0)51 312 325 (We speak English)

Realize your nicest dreams!
Make a flight with one of our hot-air balloons and enjoy the indescribable restfulness and the breathtaking view. We donít fly with coach-balloons for 15 or more passengers, but with several smaller cosy balloons. With our different balloons, we can always provide you with a quick and correct service.


At your service for:
baptisms of air from 1 up to Ö persons

incentives and promotions for companies

commercial contracts and advertising

organization of balloon meetings and events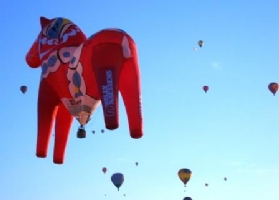 top